HOME
HOTELS & MOTELS
RECREATION
FUN FOR KIDS
RESTAURANTS
REAL ESTATE
STORES & SHOPS
SERVICES
MARINAS
ENTERTAINMENT
PARKS
FACILITIES
ORGANIZATIONS
GOVERNMENT
MORE >>
---
Advertisment: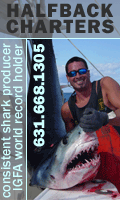 ---
- E-MAIL THIS PAGE
- OUR SPONSORS
- FREE LISTINGS
- ADVERTISE HERE
---
---
Montauk Point Lighthouse Museum & Gift Shop



Presented by the Montauk Historical Society. Montauk Point Lighthouse, the oldest lighthouse in New York State. The Lighthouse was authorized by the Second Congress, under President George Washington in 1792. Construction began on June 7, 1796 and was completed on November 5, 1796. This 100 foot tower has been part of Long Island's land and seascape for over 200 years and still serves as an active aid to navigation. This is also favorite spot for local and visiting surf-casters, who fish from the rock retaining walls at the base of the cliff in front of the lighthouse. Group and school tours(20 or more) are available on a year round basis at the Montauk Point Lighthouse Museum. Visit their web site for schedules, pictures, video or to browse their online Gift Shop.



Location: 2000 Montauk Hwy. - Montauk, NY
E-mail: keeper@montauklighthouse.com
Phone: 631-668-2544 or 1-888-Mtk-Point
Fax: 631-668-2546

---
TERMS & CONDITIONS: Information provided on this page is intended for entertainment purposes only. By using this information you agree Sunrise Industries International shall not be held responsible for errors, ommisions, inaccuracies contained herein, or any casualty, loss or damages resulting from use of this information.