When driving to Montauk you must first reach Long Island by traveling the major highways, parkways and bridges through New York City, or by taking a car ferry from Connecticut to Long Island.
If traveling from points West of NYC you should consider the GEORGE WASHINGTON BRIDGE and / or THROGS NECK BRIDGE to reach Long Island, while those traveling from North / East of NYC should consider the THROGS NECK BRIDGE or a car ferry to Port Jefferson or Orient Point.
Alternatively, if traveling from points South or Southwest of NYC (i.e. Southern New Jersey / East Coast ) you should consider using I-95 NORTH and I-278 EAST to the GOETHELS BRIDGE & VERRAZANO-NARROWS BRIDGE.
Once you choose a route to Long Island -OR- if you are starting from somewhere on Long Island, decide which of the major routes you will use to travel East to Montauk. The two most popular routes for traveling to Montauk by car are I-495 (Long Island Expressway or L.I.E. ) and the Southern State Parkway both of which will get you to RT-27 and ultimately to Montauk.
While there may be other alternative routes (i.e. Grand Central, Northern Parkway, etc.) they are generally not as practical as either I-495 or the Southern State Parkway, and most likely will not save you any time except under extremely rare circumstances or if you need to stop somewhere on Long Island on your way to Montauk.

To take the LIE,
or not to take the LIE...
Taking I-495 is the most popular route to Montauk and the Hamptons, but you may choose to take the Southern State Parkway as a (slightly) more relaxed alternative. Despite its horrific reputation, I-495 is normally the best option, and typically faster than the Southern State Parkway (which is restricted to non-commercial vehicles and is a smaller, windier road, without a paved shoulder).

Southern State
Parkway
The Southern State Parkway becomes a more viable option when traveling from points South / West ( using I-278 ) because you can access it directly from I-278 (the Belt Parkway) and you can follow it all the way to Route 27. I-495 is almost always a better option when reaching Long Island from the North (even if there is road congestion) for the simple fact you avoid having to cross nearly the entire width of Long Island (before heading East).
The day of the week and time of day you choose to travel will have a significant impact on the traffic conditions you will encounter. Naturally, you will have a much quicker and more pleasant trip if you plan to drive at off-peak hours (i.e. NOT RUSH HOUR, and NOT 5pm on Friday). If you do hit traffic when heading East, it will usually begin to thin out after passing the Huntington area near exit 49 & 50, and consider using the HOV lane if you are traveling with at least 2 people in the car.
NOTE: There is only one REST AREA on I-495 EAST near Dix Hills (there is a parking area on the Westbound side, but no facilities), so if you need to stop after passing that you must exit I-495 to find a restroom (which is not always be easy depending on what Exit you get off on). County Road 111 ( or "Manorville Road" ) is the shortest and most direct way to cross over from I-495 to NY Route 27, and there are gas stations with public restrooms, convenience stores and drive-thru fast food all immediately after exiting I-495.

"27 East"
NY Route 27 (also commonly known as the Sunrise Highway or "27 East") is the only major road in or out of Montauk
. Route 27 gradually changes from a 2 lane divided highway (2 lanes each directions), to a rural one lane road in the Hamptons.
When traveling East on Route 27 , you will eventually pass through the towns and villages in the Hamptons (Southampton, Water Mill, Bridgehampton, Sagaponak, Wainscott, East Hampton and Amagansett). You will know you are getting close to Montauk when you cross "The Napeague Stretch", a long, perfectly straight section of isolated road that runs through the pine barrens and sand dunes that separate Montauk from the rest of the world.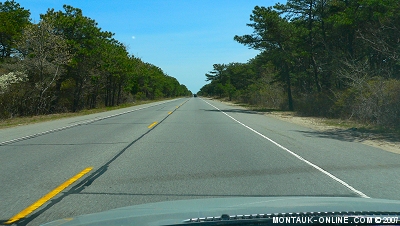 "The Napeague Stretch"
Towards the Eastern end of the Napeague Stretch you cross into Montauk and Hither Hills State Park, at which point you may choose to take either the scenic "Old Montauk Highway" (30 MPH), or stay on Route 27 (55MPH). The "old" and "new" highways re-converge in another few miles, bringing you to the entrance of Montauk Village. If you continue traveling East you will come to the the end of Long Island and the Montauk Lighthouse Museum & Gift Shop, where 27 East ends in a traffic loop.