HOME
HOTELS & MOTELS
RECREATION
FUN FOR KIDS
RESTAURANTS
REAL ESTATE
STORES & SHOPS
SERVICES
MARINAS
ENTERTAINMENT
PARKS
FACILITIES
ORGANIZATIONS
GOVERNMENT
MORE >>
---
Advertisment: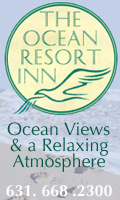 ---
- E-MAIL THIS PAGE
- OUR SPONSORS
- FREE LISTINGS
- ADVERTISE HERE
Services / Event Planning
---
---
Art of Eating Catering and Event Planning



How do you describe food so delicious that you can almost taste it as you are reading the menu? Since testimonials are the best form of referral, we have a long list of satisfied clients. Food presentation and quality is of the utmost importance to Art of Eating. Invite your guests with the confidence that they will thoroughly enjoy the food, from a visual standpoint as well as taste.



Location: 50 South Fairview Avenue - Montauk, NY
Mailing: PO Box 3232 - Montauk , NY 11954
E-mail: wecaterit@aol.com
Phone: 631-267-2411
Fax: 631-267-2435

---
TERMS & CONDITIONS: Information provided on this page is intended for entertainment purposes only. By using this information you agree Sunrise Industries International shall not be held responsible for errors, ommisions, inaccuracies contained herein, or any casualty, loss or damages resulting from use of this information.