HOME
HOTELS & MOTELS
RECREATION
FUN FOR KIDS
RESTAURANTS
REAL ESTATE
STORES & SHOPS
SERVICES
MARINAS
ENTERTAINMENT
PARKS
FACILITIES
ORGANIZATIONS
GOVERNMENT
MORE >>
---
Advertisment: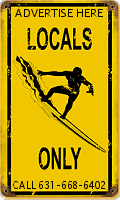 ---
- E-MAIL THIS PAGE
- OUR SPONSORS
- FREE LISTINGS
- ADVERTISE HERE
Account Manager (SAMPLE)

---
BILLING INFORMATION
ID: XYZ-INC

service@XYZ-INC.com
---
ACTIVITY REPORT

Click-through Statistics

14,692 clicks to http://www.XYZ-INC.com


Banner Ad Statistics

Banner ID
# rotation slots
# deliveries
XYZ-INC1
2
55,957




Banner ID
# rotation slots
# deliveries
XYZ-INC2
1
23,657

---

ID Code: Each advertisement is assigned a unique ID for tracking visitor activity and account maintenance purposes

# rotation slots: Each advertisement must have at least 1 rotation slot, increasing the number of rotation slots increases the exposure of your banner ad

# deliveries: Total number of pages requested from Montauk-Online.com containing the advertisement


---

TERMS: Advertisement graphics produced by Sunrise Industries International (S.I.I.) for use on Montauk-Online.com are copyrighted material and may not be reproduced, redistributed or used in any form outside the context of Montauk-Online.com without express written permission from S.I.I.
NOTE: This report is intended for demonstration of the banner Activity Report page only. Actual results may vary and are not guaranteed.