HOME
HOTELS & MOTELS
RECREATION
FUN FOR KIDS
RESTAURANTS
REAL ESTATE
STORES & SHOPS
SERVICES
MARINAS
ENTERTAINMENT
PARKS
FACILITIES
ORGANIZATIONS
GOVERNMENT
MORE >>
---
Advertisment: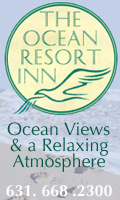 ---
- E-MAIL THIS PAGE
- OUR SPONSORS
- FREE LISTINGS
- ADVERTISE HERE
---
---
Planetary Reflexology



Reflexology is an ancient form of healing done on the feet, hands and ears. There are points on the feet, hands and ears that correspond to all the different parts of the body. By using the specific pressure techniques of reflexology, the body and achieve balance and heal itself. It is excellent for relieving stress. Elizabeth Willoughby has been in practice since 1987.



Location: 88 Glenmore Ave. - Montauk, NY
E-mail: ew@planetaryenergetics.com
Phone: 631-668-6922 or 917-783-4929
Fax: 631-668-5722 (must call first)

---
TERMS & CONDITIONS: Information provided on this page is intended for entertainment purposes only. By using this information you agree Sunrise Industries International shall not be held responsible for errors, ommisions, inaccuracies contained herein, or any casualty, loss or damages resulting from use of this information.